Phenocane is an all-natural COX2 inhibitor and dietary supplement made from a powerful blend of Curcumin, Curcuminoids, dl Phenylananine, Boswellia and Nattokinase. In other words, Phenocane is an all-natural dietary supplement that helps with fast relief, reducing discomfort, improving flexibility and mobility.
Phenocane comes in vegetarian capsules to help with the speed of release and the natural reaction of the body.  The most common reason for pain is inflammation and by focusing on the inflammation, Phenocane was awarded the "Best of Supplements Award".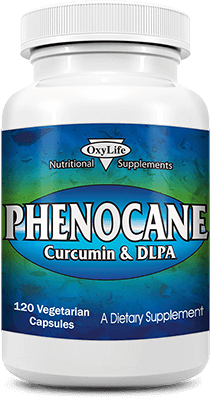 EVERY ORDER INCLUDES FREE SHIPPING
Phenocane is taken in the morning and at night with or without food.  Taking 2 capsules per day enables you to focus on living while Phenocane works on pain.
Phenocane is safe and natural
Phenocane is a safe and natural supplement that can help alleviate pain from sports injuries, arthritis or inflammation without generating any side effects. Unlike synthetic prescription medicines which often cause problems with digestion and absorption in the body Phenones contain no additives or preservatives so they're able to provide relief quickly while still being good for you!
The use of Phenocane can help relieve your discomfort and pain, without having to worry about any side effects. This natural supplement is perfect for those who are looking for an alternative or need something more mild-mannered than traditional prescription medicine like oxycodone which might be too strong if you have sensitive systems in place around stomachs etc.
Empower your body
Taking Phenocane as a dietary supplement empowers your body with all the benefits of aspirin without the gastrointestinal side effects commonly caused by aspirin. Although aspirin is a COX2 inhibitor, it also inhibits COX1, an action that exacerbates ulcers, can cause heartburn and has shown to promote internal bleeding. In fact, long-term aspirin use can be dangerous for some people who continue to take aspirin due to chronic pain. With Phenocane, the body is not subjected to harsh chemicals that can rapidly deteriorate certain physiological systems. Instead, pain is relieved with all-natural ingredients that can be used for extended periods without experiencing alarming side effects.
EVERY ORDER INCLUDES FREE SHIPPING