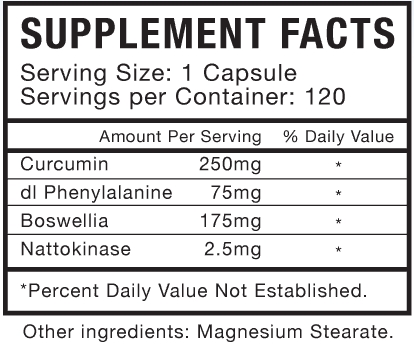 Phenocane is all natural and winner of Supplement of The Year. A powerful and potent blend of important anti-inflammation extracts, amino acids, pain reducers and antioxidants help to make Phenocane a clear leader in pain management and life improvement.
Here is an overview of the key ingredients in Phenocane:




Additional health benefits being studied:
Pain relief (including chronic back pain, sciatic nerve pain, and old sports injuries): Researchers are constantly seeking powerful, safe, natural methods of pain relief, and Boswellia — a flowering tree used in Phenocane — shows promise. One study, designed to focus on asthma relief, showed Boswellia offered relief against a variety of inflammatory conditions.
Arthritis: Scientists continue to tackle the problem of arthritis, and numerous studies have involved Phenylalanine (an amino acid). In the lab, researchers often combine different amino acids (as well as variations on the same one) to see if the results may have analgesic benefits. In one study at Harvard, the findings showed that such an experiment may indeed lead to relief for individuals suffering from the effects of arthritis.
Sources of information:
As reported in the European Journal of Herbal Medicine, Volume 3, Issue 11, 1998: "Effects of Boswellia serrata gum resin in patients with bronchial asthma: results of a double-blind, placebo-controlled, 6-week clinical study" by I. Gupta I, V. Gupta V, A. Parihar, et al (Pharmazeutisches Institut of the University of Tübingen, Germany).
As reported in the Journal of Biological Chemistry, Volume 264, Issue 22, 1989: "Binding of D-Phenylalanine and D-Tyrosine to Carboxypeptidase A" by D.W. Christianson, S. Mangani, G. Shoham, and W.N. Lipscomb (Department of Chemistry, Harvard University, Cambridge, MA).